Celebrating Best of the Best!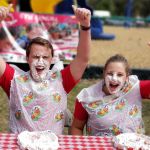 The Citrus County Chamber of Commerce is thrilled to announce that the renowned Florida Manatee Festival has once again received the "Best of the Best" designation for festivals and events from the Citrus County Chronicle. This remarkable recognition showcases the festival's consistent commitment to excellence, community engagement, and unforgettable experiences for visitors of all ages. We would like to thank our community members that continue to attend, enjoy, and vote for our festivals every year.
The Florida Manatee Festival, a beloved annual event celebrating the unique charm surrounding the gentle sea creatures and our beautiful Downtown Crystal River area, has continued to captivate attendees from near and far. The Chamber's dedication to curating a vibrant and inclusive experience has contributed to the festival's ongoing success, making it a must-attend event for locals and tourists alike. With its wide array of entertainment, educational exhibits, delectable cuisine, and engaging activities, the Florida Manatee Festival has become synonymous with the vibrant spirit and natural beauty of Citrus County.
Furthermore, the Citrus County Chamber of Commerce is pleased to announce that the Floral City Strawberry Festival has been awarded an honorable mention in the same category. This recognition underscores the festival's commitment to promoting the agricultural heritage and delicious strawberries that have become synonymous with the charming community of Floral City. The festival's unique blend of mouthwatering strawberry treats, live entertainment, arts and crafts, and family-friendly activities has created an unforgettable experience for attendees year after year.
As an organization committed to promoting local businesses and fostering economic growth, the Citrus County Chamber of Commerce is immensely proud to produce outstanding events that showcase the very best of our community. The Florida Manatee Festival and the Floral City Strawberry Festival exemplify the Chamber's dedication to creating memorable experiences that not only celebrate our heritage but also attract visitors and boost the local economy.
The Chamber extends its gratitude to the dedicated volunteers, sponsors, vendors, and community members who have contributed to the success of both festivals. Their passion, hard work, and unwavering support have been instrumental in making these events a resounding triumph.
The Citrus County Chamber of Commerce looks forward to future endeavors and remains committed to delivering exceptional events that promote tourism, community engagement, and economic vitality throughout Citrus County.
Save the Dates:
-  37th Annual Florida Manatee Festival: January 13th & 14th, 2024
- 37th Annual Floral City Strawberry Festival: March 2nd & 3rd, 2024.